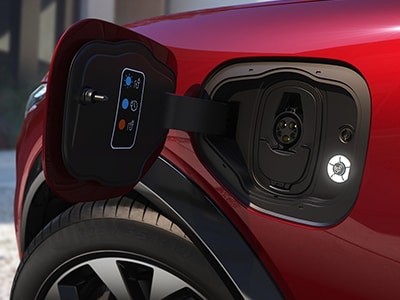 FULL CAPABILITY
Available eAWD (electric all-wheel drive) delivers exceptional performance and handling. Front and rear motors distribute power independently to each axle, which can provide impressive acceleration and help you take on snowy roads.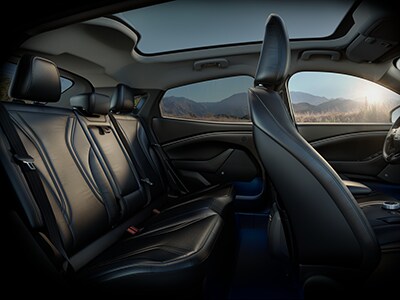 THE LUXURY OF SPACE
Exhilaration is better when it's shared. An impressive SUV interior with plenty of headroom and legroom means everyone will love the ride.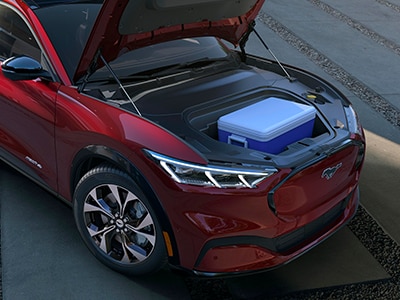 Front-Load Freedom
A convenient front trunk levels up your adventure game. Not only is this added 4.8 cu. ft. of storage space water-resistant, it's washable and features a convenient drain, making it perfect for tailgating, camping and muddy gear-toting.
EXHILARATING PERFORMANCE
With the first all-electric member of the Mustang family, Ford harnessed the power of electrification to craft a vehicle that's as exciting to drive as its predecessors while also delivering a new, uniquely tailored experience. There will also be a  Mach-E GT - targeting 0 to 60 mph in less than 4 seconds*, making it faster off the line than a Porsche Macan Turbo3 - and a GT Performance Edition, targeting 60 miles per hour in the mid-3-second range - comparable to a Porsche 911 GTS - as well as an estimated 342 Kw (459 horsepower) and 830 Nm (612 ft.-lbs.) of torque.
DRIVER PROFILE AND PERSONALIZATION
Mustang Mach-E recognizes you as soon as you get close using your Phone As A Key. Then it automatically adjusts the seats, mirrors, radio, lighting and instrument panel just the way you like it.
Your Mustang Mach-E will match your mood. You can select your Drive Experience to fit the moment-and the interior sound, lighting, and even the responsiveness will adjust to your style - whether it's Unbridled, Engage or, when necessary, Whisper.
DRIVING EASE WITH NEXT GENERATION SYNC
The new intelligent, voice-activated, next generation SYNC® provides a driving experience that's designed around you. As intuitive as your smart phone, its user-friendly design makes it easy to personalize and update your drive right from your mobile device or on your computer.  Other highlights include cloud-connected navigation, a customizable cluster screen and premium 15.5-inch touchscreen and modem-based over-the-air updates. It can even help you locate your next charge.
2021 North American Utility Vehicle of the Year
Until now, it would have been unheard of to put an iconic Mustang badge on a utility vehicle, but NACTOY says Ford's decision to take that risk paid off with the Mustang Mach-E.  Jurors say "The Mustang Mach-E leapfrogs European EVs as the Tesla Model Y's most formidable challenger yet."
Experience the blow your hair back, knock your socks off adrenaline rush of the Mustang Mach-E. Targeting 0-60 mph in mid 3 second range.
READY FOR THE RUSH?
Experience all the power, performance, and passion of a legendary pony & come in for a no-obligation test drive today at Labrum Ford. Contact us today to learn more, or to order your 2021 Ford Mustang Mach-E today.